Day 2 :
Drug Design and Chemistry: Cancer Studies
Session Introduction
McGill University
Canada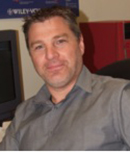 Biography:
Nicolas Moitessier is an Associate Professor at McGill University, Montréal, Canada. He received his undergraduate training and his PhD from Université Henri Poincaré-Nancy I (France) under the guidance of Dr. Yves Chapleur within the Groupe SUCRES. He carried out thesis research on computer-aided design and synthesis of carbohydrate-based biologically relevant molecules. He was first involved in the design and preparation of IP3 and Adenophostin A mimics using Sharpless asymmetric dihydroxylation as a key reaction. In collaboration with a theoretical chemistry group (headed by Dr. Maigret), he then focused on the computer-aided design and synthesis of carbohydrate-based antagonists of integrins.
Abstract:
Docking methods have been prominent in the discovery of novel drugs. Over the 15 years ago, we have been developing a docking program which has been modified to address unmet needs in medicinal chemistry. Initially, our applications of docking programs to integrin antagonists, BACE-1 inhibitors, and aminoglycosides binding to bacterial RNA revealed the limitations of available docking programs, which were essentially docking flexible ligands to rigid proteins. Over the following year, we developed our own program, Fitted, implementing algorithms for protein flexibility, displaceable water molecules, and ligand-based pharmacophore-oriented docking. Other medicinal chemistry projects motivated most of the concepts and implementation within an ever-evolving docking program. We will present examples of medicinal chemistry-driven implementations such as methods considering drug-zinc coordination and its effect on the pKa of surrounding residues, for HDAC inhibitor design, routines to identify reactive groups and form bonds with a given residue to enable the development of covalent prolyl oligopeptidase (POP) inhibitors, methods to compute transition states while docking for studying the metabolism of POP inhibitors by cytochrome P450 enzymes (CYPs) and others.
Guru Nanak Dev University
India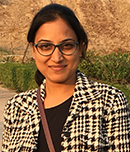 Biography:
Jagroop Kaur graduated from BBK DAV College (for women), Amritsar with BSc in Medical Bioinformatics in 2009. After completing her MSc in Applied Chemistry (Pharmaceuticals) from Guru Nanak Dev University, Amritsar in May 2012, she started her PhD under the supervision of Prof. Palwinder Singh in the same University. Her research interests include medicinal chemistry, various characterization techniques, bio-evaluation of synthesized compounds and computer aided drug designing.
Abstract:
By using the multi-target-directed drug designing strategy, a highly promising anti-inflammatory agent capable to inhibit cyclooxygenase-2 (COX-2) and lipoxygenase (5-LOX) enzymes of arachidonic acid metabolic pathway is developed. The strategic design of the molecules; linking together indole, chrysin and barbituric acid (pharmacophores of different medicinal agents) through propanol and methine moieties, was based on the results of molecular docking and molecular dynamics studies. The title compound 1 exhibited IC50 1nM and 1.5nM for COX-2 and 5-LOX, respectively. The results of UV-VIS spectral studies and isothermal titration calorimetry experiments indicated appreciable interactions of the compound with these two cellular targets. Further, the in-vivo investigations on Swiss Albino mice using capsaicin induced paw lickings and dextran induced inflammation models showed that these compounds possess appreciable analgesic and anti-inflammatory activities. The details of all the experiments including those in support of mode of action of the compound with its cellular targets will be presented.
Guru Nanak Dev University
India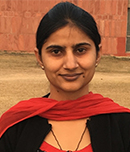 Biography:
Sukhmeet Kaur graduated from Guru Nanak Dev University, Amritsar with BSc (Hons Sch) in Chemistry in May 2010. After completing her MSc (Hons Sch) in Chemistry from Guru Nanak Dev University, Amritsar in May 2012, she started her PhD under the supervision of Prof. Palwinder Singh in the same university. Her research interests include synthesis, characterization and biological studies of bioactive molecules and use of computational chemistry in drug design process.
Abstract:
Cyanide, one of the most toxic anions, when exceeds its permissible level of 1.9 μM results in inhibition of mitochondrial electron transport chain (ETC), thus causes the blockage of cellular respiration. Although many methods for detecting cyanide anion have been proposed, only two cyanide receptors- hydroxocobalamin and nitrile/thiosulfate, have been practically applied as antidotes for cyanide poisoning. A compound containing syringaldehyde and oxindole was designed and synthesized. The structure of the compound was elucidated with the help of various 1D and 2D NMR experiments which confirmed the E-configuration at the olefinic groups of part A and part B, and Z-configuration at olefinic group of fragment C. The compound was evaluated for its ability to bind with cyanide using UV-vis spectroscopy. The enzyme immunoassay confirmed the capability of the compound to free cytochrome c oxidase (cellular target of cyanide) from cyanide by forming complex with CN-. The rationale for the design of the molecule, its synthesis, response to CN- and removal of cyanide from the aqueous medium as well as bonded to Cyt C will be presented.
Drug Discovery and Drug Development: Emerging Diseases
Session Introduction
BioSolveIT Inc.,
USA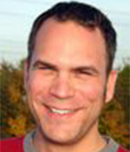 Biography:
Carsten Detering obtained his PhD in Physical Chemistry from the Freie Universitaet Berlin in Germany in 2001. He did his Post Doc at the University of Washington in Seattle where he worked on the application of docking software for nucleic acid drug targets and rational design of new inhibitors for a malaria project. In 2005 he came to BioSolveIT in Germany as an Application Scientist first, later filling the position of Senior Key Account Manager and Executive VP of Sales, North America, before moving back to Seattle as CEO of BioSolveIT Inc, the North American subsidiary of BioSolveIT.
Abstract:
In this workshop, we will showcase the most important features to get you going with SeeSAR, the easy-to-use software for medical chemists. We will use an example published by Takeda, in which they described the discovery new inhibitor for Bruton's Tyrosine Kinase, Btk, which is of lower weight than ibrutinib and also doesn't bind covalently against the target. The workshop will walk you through analyzing the protein-ligand complex and the details of editing the ligand starting from the crystal structure until we arrive at the published structure. By means of the editing process, all important features of SeeSAR will be explained in great detail, so that participants will be able to start doing their own compound ideation after the workshop. A free license will be provided in succession of the workshop.

Biography:
Fabrice Gardebien has completed a PhD in Theoretical Chemistry from the University of Pierre and Marie Curie (Paris, France) and Postdoctoral studies from University of Mons (Mons, Belgium). He is interested in predicting protein-ligand interactions by combining molecular modeling techniques (molecular docking and molecular dynamics) and quantum chemistry (ab initio and semi-empirical levels). He is the Director of the DSIMB team based in Reunion Island.
Abstract:
Drepanocytosis is a genetic blood disorder characterized by red blood cells that assume an abnormal, rigid, sickle shape. In the pathogenesis of vaso-occlusive crises of sickle cell disease, red blood cells bind to the endothelium and promote vasoocclusion. At the surface of these sickle red blood cells, the over-expressed protein Lutheran strongly interacts with the protein Laminin found on the endothelium. The aim of this study is to identify a protein-protein interaction inhibitor with a high probability of binding to Lutheran for the inhibition of the Lutheran-Laminin interaction. A virtual screening was performed with 395 601 compounds that target Lutheran. Prior validation of a robust docking and scoring protocol was considered on the protein CD80 because this protein has a binding site with similar topological and physico-chemical characteristics; CD80 also has a series of ligands with known binding affinity constants. The protocol that was finally selected consisted of multiple filtering steps based on docked scores, molecular dynamics simulations, post-screening scores, and molecular properties. We were able to identify promising compounds that could reduce the Lutheran-Laminin interaction as measured by our microfluidic platform capable of quantifying cell rolling and binding/adhesion.
Adnan Menderes University
Turkey

Biography:
Ilknur Babahan received PhD degree in Organic Chemistry from Ege University, Izmir, Turkey. Since 2008, she has been a faculty member at Adnan Menderes University in Aydin, Turkey. Her main areas of research interest are organic synthesis, organometallic chemistry and medicinal chemistry. Her current research interests include design and synthesis of novel ligands and their metal complexes which may be used as "smart medicine" in cancer therapy.
Abstract:
For cancer development an alteration of multi-genetic and epigenetic molecular events is required. Therefore, it seems very difficult to prevent cancer using some compounds. Expectation from such compounds is to arrest or reverse carcinogenic changes before the appearance of malignancy. A great quantity of new techniques facilitates the fast and simultaneous screening of various novel compounds for their antitumor activities at molecular and biochemical levels. The structures of the compounds are important by exhibiting their anti-tumoral activity. It has been identified some structural requirements for the anti-tumoral activity. Based on literature knowledge thiosemicarbazones and their complexes can arrest the cell cycle and some of them are very effective when compared with known chemotherapeutic agents. At this point in our work, screening for activity of some novel compounds is very important for cancer therapy. Several research groups actively synthesize active compounds and carry out pharmacological studies. In this work, we present the synthesis and characterization of novel thiosemicarbazone derivatives and their Ni(II), Cu(II) and Co(II) complexes of these materials. All of the synthesized complexes were tested against two human cancer cell line (HL-60 and HT-29) for their anti-proliferative and apoptotic feature. These complexes were found to be potent anticancer agents with concentrations that inhibited 50% of proliferation (IpC50) between 5μM and 40μM. These results afford for a path further research on pharmacological studies on how can these ligands and their complexes can be used for developing some new drugs and how they affect the cell cycle.

Biography:
Ochieng Anthony studied pure and applied chemistry,, a PhD scholar and is currently a Senior Chemistry Lecturer at Faculty of Science,Sumait University in Tanzania .He is also a co-author of determinations of acidic pharmaceutical components in analgesic drugs using wet classical techniques. His current researches focuses on natural products and evaluating their medicinal values, pharmaceutical analysis, cosmetology, Macrocyclic compounds and their applications in drug targeting, and using statistical thermodynamics in evaluating physical constants. He is a member of Kenya Chemical society, American Chemical Society, GNDU & I Chemical Society, Royal Chemical Society, a Reviewer with Journal of chemical a material science and has over 15 years lecturing Chemistry in various higher academic institution and seven years working in managerial technical positions in pharmaceutical(Lab & Allied, Cosmos Pharm, Ranabaxy), Textiles(OCM) and cosmetics(Interconsumer Ltd) industrial sectors.
Abstract:
Aspirin, acetyl salicylic acid or 2-acetoxybenzoic acid has the carboxylic acid functional group hence easier to quantify using a strong alkali like NaOH. In most analgesic drug formulations in tablets, aspirin generally binds with other excipients or substituents which has acidic groups and easily reacts with NaOH, hence making sodium hydroxide not a suitable reagent for quantifying aspirin in analgesic tablet formulation. Six different tablets containing aspirin as active substance were taken. Methods using sodium hydroxide as the main reagent in quantification involves a lot of stoichiometric mathematical manipulations as in titrimetric, UV spectroscopy via multivariate calibration gave values at lower limit or outside the lower US & BP pharmacopeia limit while the hyphenated chromatographic techniques such as, GC-MS and HPLC gave a very good resolution and very precise results within the pharmacopeia limits.
Chem-Virology (Zika Virus)
Session Introduction
University of Houston
USA
Biography:
Shoujun Xu obtained his PhD in Chemistry from the Johns Hopkins University and received Post-doctoral training in Caltech and University of California at Berkeley. His expertise includes magnetic detection, spectroscopy and technology development. He invented the force-induced remnant magnetization spectroscopy (FIRMS) technique. Its high force resolution has enabled a wide range of applications in biochemical research. Multiple papers on prestigious scientific journals have been produced, and several patents have been either awarded or pending.
Abstract:
The optimization of drug structures has conventionally used the binding constant, which corresponds to the Gibbs free energy, as the physicochemical parameter to quantitatively measure the binding efficiency. Recent studies have questioned whether this is the best criterion; enthalpy instead has been considered an alternative parameter, supported by several drugdeveloping paths. However, it remains difficult to experimentally obtain enthalpy that is specific to the drug binding process because of the limitations of micro-calorimetry. We propose to use the differential binding force (DBF) as a new parameter to quantify the binding efficiency and stability of drug candidates. DBF is defined as the difference between the binding forces of ligand-receptor pairs with and without drug interactions. The binding forces are determined by force-induced remnant magnetization spectroscopy (FIRMS). The experimental scheme is that one of the ligand-receptor pairs is immobilized on the surface, while the other is labeled with magnetic beads. The magnetic signal is measured by an atomic magnetometer as a function of an external mechanical force. The binding force is given as the external force at which there is a decrease in the magnetic signal due to the dissociation of the ligand-receptor bonds. Because of the high force resolution and detection efficiency, DBF of drugs can be obtained more precisely than any other techniques. This method has been applied for various drug-DNA systems and revealed an unusual mutual selectivity between drug chirality and DNA sequence. Future applications and further technological development will be discussed.