Day 3 :
Neurodegenerative Diseases
Session Introduction
University of KwaZulu-Natal
South Africa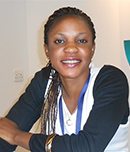 Biography:
Olayide A Arodola graduated as a Master of Medical Science (Pharmaceutical Chemistry) with a Summa Cum Laude from University of KwaZulu-Natal, Durban South Africa. She continued her PhD study in Pharmaceutical Chemistry at the University of KwaZulu-Natal. She is currently an awardee of the Golden Ke International Honor Society as a result of her outstanding academic achievement in 2014 – Master's degree (Summa Cum Laude). Her future endeavors will be focused on clinical research where her analytical and computational skills can add value to pharmacodynamics and pharmacokinetic research. She has published 5 papers in high-ranked peer reviewed journals and 3 papers have been submitted and under reviews.
Abstract:
Introduction/aims: Cathepsin D, one of the attractive targets for the treatment of breast cancer, has been implicated in HIV neuropathogenesis since it increases intracellular viral replication. However, its mechanism of action has neither been fully explored nor well understood. This study aims at developing a predictive quality approach to understanding the mechanism of action of Cathepsin D in the treatment of HIV and breast cancer.
Methods: Herein, we employed diverse computational methodologies including 2D-QSAR, 3D-QSAR, hybrid QM/MM, accelerated molecular dynamics, MM-PBSA, Principal component analysis, residue interaction network, cross-correlation, potential energy analysis, RMSD, RMSF to investigate the stability, fluctuation and detailed binding modes between Cathepsin D and 78 pepstatin A analogues.
Results: The 3D-QSAR model shows good predictive ability with R2 of 0.780 and Q2 of 0.574 while 2D-QSAR model has R2 of 0.821 and Q2 of 0.365. Cross-correlation provided insight into atomic motions with respect to their biological function. RMSD and potential energy analyses showed the stability of the 5 compounds in the enzyme and RMS deviation of C-alpha were not more than 1Å. PCA analysis showed that the two eigenvectors account for >37.1% of all motions in all the complexes analysed in this study.
Conclusions: The insight gained from this study offer theoretical references, which could provide an incentive to understanding the mechanism of action of Cathepsin D. It could also aid in the designing of potent, clinically relevant drugs with improved pharmacokinetic and pharmacodynamics properties that could aid the treatment of HIV-1 and breast cancer co-infection in Africa.
Keywords: HIV-1, Breast cancer, Cathepsin D, Accelerated Molecular dynamics, QSAR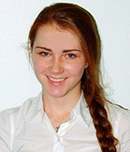 Biography:
Anna Tomberg is currently pursuing PhD in Prof. Nicolas Moitessier's research group at McGill University, Canada. Her interest in computational chemistry and molecular modeling started when she was working as a Research Assistant in Prof. Christopher Barrett's group.
Abstract:
The ability to predict the formation of reactive metabolites during the metabolism of a drug would allow speeding up the drug discovery process by identifying potentially toxic compounds at an early stage. Most of the detoxification of xenobiotics takes place in the liver, where, among others, Cytochrome P450 (CYPs) enzymes oxidize drugs to make them more water soluble and easier to excrete. However, the metabolites produced by this oxidation may be highly reactive and could cause toxicity by covalently binding to macromolecules in the body. Using Density Functional Theory, we modeled the active site of CYPs and a set of small substrates in order to better understand the reactivity of CYPs. Based on our findings, we have developed a fast yet efficient model to predict CYP aromatic oxidation metabolites. Herein we present our progress in the study of aromatic oxidation, olefin epoxidation and aliphatic hydroxylation and the use of Fukui coefficients in the prediction of their metabolism.
Max Planck Institute for Molecular Genetics
Germany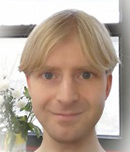 Biography:
Christoph Gorgulla has completed a BSc in Molecular Biology with Bioinformatics, as well as a BSc and MSc in Mathematics at the Free University of Berlin and the Berlin Mathematical School. Currently, he is a PhD candidate at the Int'l Max Planck Research School for Computational Biology and Scientific Computing of the Max Planck Institute for Molecular Genetics, the Berlin Mathematical School and the Free University of Berlin, and holds a Doctoral fellowship of the Einstein Center for Mathematics Berlin (ECMath).
Abstract:
A vast arsenal of computational tools has been developed in the past which are useful for virtual screening, from the preparation of ligand databases to the postprocessing of the screening results. At the same time computer clusters such as high-performance computers or supercomputers became more and more available, which employ distributed resource management systems (batch systems) in order to handle and organize the jobs of the users. In order to be able to carry out large-scale virtual screening procedures in a fully automated fashion on computer clusters which are managed by a batch system we have developed VirtualFlow, a workflow system for virtual screening related tasks. Its features are: Scaling without limits with respect to the CPUs with essentially no overhead, monitoring and controlling of the workflow during the runtime and automatic compression /decompression/ archieving of the input and ouput files. The VirtualFlow framework has been implemented in two applications. The first one, VFLP (VirtualFlow for Ligand Preparation), is specialized on the preparation of ligand databases, taking SMILES as input and converting them into ready-to-dock molecules in any desired target format. The second implementation, VFVS (VirtualFlow for Virtual Screening), is specialized on the virtual screening procedure itself. VFLP and VFVS can be seamlessly joined to carry out virtual screenings on the largest scales.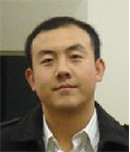 Biography:
Zhaomin Liu has obtained his MSc in Chemistry at Southern Illinois University Edwardsville focusing on protein modeling and structure-based studies of G-protein coupled receptors. He continued his studies at McGill University for his PhD with Prof. Nicolas Moitessier and his current research is on drug design and software refinement targeting nucleic acids and on molecular mechanics development, deriving molecular mechanics terms from fundamental principles.
Abstract:
Molecular mechanics (MM)-based methods evaluate relative potential energies of given molecules and various conformations by summing the bonding and non-bonding interactions described by a set of functions and parameters. These parameters are often derived from computational and/or experimental data for large training sets of small molecules. Modeling systems with molecules structurally close to those of the training set is expected to provide accurate results. However, structurally different molecules including some potential drug candidates may not be parameterized properly. One way to address this issue is to continuously develop parameters covering more diverse molecules. Alternatively, we could study the origins of the conformational behaviors of molecules and seek for rules to derive parameters. Chemical principles such as steric clashes, hyperconjugation, inductive and resonance effects are applied qualitatively to rationalize experimental observations over decades. We proposed to develop predictive methods through those long standing principles. We will present our efforts to understand and quantify chemical principles and then develop rules to derive MM parameters. Personalized parameters are generated on-the-fly from atomic properties.
National Research Center
Egypt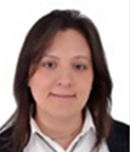 Biography:
Reham F Barghash is an Associate Professor at National Research Centre (NRC), Egypt. She has received her PhD degree in Applied Organic Chemistry from Ain-Shams University, Cairo, Egypt. Through several research grants, she got the opportunities to carry out her research work in Italy at Ferrara University from 2006-2008 and Post doctorate at University of British Columbia's Okanagan Campus, Kelowna, BC, Canada (2011). She has been the recipient of NRC Award for the best PhD (2009) in Chemical Sciences and their Applications and Encouragement NRC Award (2013). She has published more than 20 papers in reputed journals and has been serving as peer Reviewer of international journals.
Abstract:
Drug discovery is a process aiming at identifying compound useful in curing certain disease by interacting with certain biological target molecule. Since it may take years to develop a new drug that can be introduced into the market, the process of drug discovery is a tedious, time consuming one. This led to the introduction of computer aided drug design (CADD) technologies in the field of drug discovery, as CADD enables the pharmaceutical researcher to reduce the number of compounds to be synthesized and tested and reduce up to 50% in the cost of drug design as well; also it increases the probability of design of compounds with acceptable biological activity. Advances in computational techniques and hardware solutions have enabled in silico methods to speed up lead optimization and identification
Prince Sattam Bin Abdulaziz University
KSA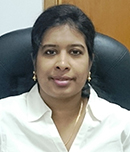 Biography:
Sugapriya Dhanasekaran has completed her PhD from University of Madras and Post-doctoral studies from Indian Institute of Technology Madras, School of Biotechnology. She worked as a Scientist in IIT-Madras and currently working as an Assistant Professor at Prince Sattam Bin Abdulaziz University, KSA. She has published more than 23 papers and chapters in reputed journals and has been serving as an Editorial Board Member of reputed international journals
Abstract:
Targeted drug delivery systems are nano-scale drug carrier molecules designed for improving the communication of cellular and molecular components and biodistribution of tumor targeted drug (chemo) therapeutics. Nanomaterials are generally clusters of molecules, atoms and molecular fragments into extremely small size particles (1-100nm) in nature. Nanomaterials engineered as self-assembled biodegradable particles were used for targeted drug delivery system. Nanocarriers/particles should be- capable of transporting high doses of chemotherapeutic drugs/nano-medicines into the targeted tumor cells without disturbing the normal healthy cells. It is also used for construction of novel targeted drug delivery system and future application in nano-vaccination and nanotechnology. Multifunctional "smart" nanoparticles or carries hold out the possibility of effective drug targeted therapeutics in molecular and cellular levels at the earliest stage. Here, we briefly discuss the significance oftargeting strategies and drug delivery system and outline the current approaches and future directions in the improvement of tumor targeting nanomedicines.

Biography:
Abstract:
Background: Anthraquinones are well-known anticancer drugs. They carry out their cytotoxic activities through interaction with DNA and inhibition of topoisomerase II activity. Anthraquinones (AQ5 and AQ5H) were synthesized and studied with 5-DAAQ by computational and experimental tools.
Aim/Purpose: The purpose of this study is to shed more light on mechanism of interaction between anthraquinone DNA affinic agents and different types of DNA. This study will lead to gain of information useful for drug design and development.
Methods: Molecular structures were optimized using DFT B3LYP/6-31+G(d). Depending on intra-molecular hydrogen bonding interactions four conformers of AQ5 were detected within the range of about 42kcal/mol. Molecular reactivity of the anthraquinone compounds was explored using global and condensed descriptors (electrophilicity and Fukui functions). NMR and UV-VIS electronic absorption spectra of anthraquinones/DNA were investigated at the physiological pH. The interaction of the anthraquinones (AQ5 and AQ5H) were studied with different DNA namely, calf thymus DNA, (Poly [dA]. Poly [dT]) and (Poly [dG].Poly [dC]). UV-VIS electronic absorption spectral data were employed to measure the affinity constants of drug/DNA binding using Scatchard analysis.
Results: NMR study confirms qualitatively the drug/DNA interaction in terms of band shift and broadening.
Universidade Estadual do Sudoeste da Bahia
Brazil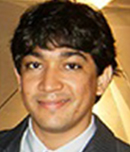 Biography:
Bruno Andrade has completed his PhD in Biotechnology in 2011 from the State University of Feira de Santana, Brazil. He has experience in structural and functional analysis of molecules isolated from microorganisms, animals and plants with pharmacological potential, and working on the following topics: Homology Molecular Modeling, Docking and Virtual Screening. He is currently Adjunct Professor at the State University of Southwest Bahia, Brazil, School of Medicine. He has published over 30 works (including 10 papers) in reputed journals and international meetings.
Abstract:
Parkinson's disease, Alzheimer's disease and Autism comprise the most common neurodegenerative disorders. Sometimes, they share common metabolic pathways with between them and with other neurodegenerative disorders of the central nervous system. In general these disorders are related to abnormal high level of peptides and catabolites, such as that derived from Amyloid Precursor Protein (APP), which plays a key role in Alzheimer's disease. In this study we proposed to evaluate the role of new targets involved with neurodegenerative diseases, using computational tools (systems biology and cheminformatics), as well as propose new natural compounds which can act in neuroprotection. All protein targets were transcribed from hub genes (picked by search ensemble approach algorithm (SEA) and its ligands were subjected to molecular docking studies. In addition we performed 20 nanoseconds molecular dynamics using MMPBSA protocol. Small molecules Docking studies were performed by Audodock 4.0, while peptide-protein and protein-protein interactions were calculated by Rosetta Online Server. PyMol 1.7 and Discovery Studio 4.0 were used to evaluate docking results and generating 2D maps. The suite GROMACS 5.0.5 was used to simulate MMPBSA Molecular Dinamics.
Clinical Pharmacy & Clinical Trials